The 2009 Taiwan International A Cappella Festival was held from October 16 to 25. Everyone in Taiwan was able to enjoy the beautiful sounds of a cappella, as well as the joy and energy in a cappella! Singers in Taiwan also had the opportunity to share with and learn from other singers from other countries.
The festival included an International Modern A Cappella Competition, an International Master's Class, an International Group Concert Tour, and a Gala Concert. The concert was different from the past concerts where international groups were invited to perform; instead, the winners of the international competition performed at the Gala Concert. Not only could this allow the winning groups to show their music, but audiences were able to enjoy a greater variety of excellent music.
To make music a part of everyday life and to progress with the passage of time, the Taiwan International A Cappella Festival proceeded to provide opportunities for musicians to create new harmonious music. Through a cappella music, we hoped to bring happiness, emotion, and harmony to everywhere.

Domestic Competition
| | |
| --- | --- |
| Date/Time | 10/18(Sun.)9:30~13:00 |
| Venue | Taipei zhong-Shang Hall |
| Ticket Price | Free, Get free tickets at:Taiwan Choral Music Center |
International Competition
Date/Time

10/18(Sun.)16:30~21:30

Venue

Taipei zhong-Shang Hall

Ticket Price

200(Student), 300, 500, 800, 1000
Arts Ticket +886-2-3393-9888
Special Offer:10% discount for 10 tickets 、10% discount for friends of National CKS ConcertHall、KHS and PTV
2009 Winners' Concert
Date/Time
10/19(Mon.) 19:30~21:30
Venue

Taipei zhong-Shang Hall

Ticket Price

200(Student), 300, 500, 800
Arts Ticket +886-2-3393-9888
Special Offer:10% discount for 10 tickets 、10% discount for friends of National CKS ConcertHall、KHS and PTV
Some tour concerts are still under arranging...
Stouxingers
/Germany
Date
10/21(Tue.) 16:00
10/23(Thu.) 19:30
10/24(Fri.) 19:30
Place

Hsin-Choo

Traffic University

Ping-Tung

Chao-Zho Chao-He Elementary School

Ping-Tung City

Performing Center

Price
150,250,350,400
Era Tickets
+886-3-5731953
Free
NT$100
Arts Ticket
+886-7-226-5998
Tonalrausch / Germany
Date
10/16(Fri.) 19:30
10/21(Wed.) 19:30
10/24 (Sat.) 19:30
Place

Ban Chao City

Music Park

Hua-Lien

Tzuchi University

Yi-Lan County

Performing Center

Price
Free
Free
Free
SoundStage / United States
Date
10/20(Tue) 19:30
10/22(Thu) 19:30
10/25(Sun) 19:30
Place

Chang Hua City

Ming-Dao University

TaiChung City

Feng-Chia University

Ping-Tung City

Performing Center

Price

Free

Free

NT$100
Arts Ticket
+886-7-226-5998
Suade
/Australia
Date
10/21 (Wed.) 19:00
10/22 (Thu.) 19:30
10/24 (Sat.) 19:30
Place

Tai-Chung Jing-Yi University

Tai-Nan Chen-Kong University Kuon-Fu Area, Kuon-Fu Lake side

Taipei Yun-Ho

Fu-Han Jr High School Performing Hall

Price
Free
Free
Free
MayTree / Korea and Robstar / Japan
| | |
| --- | --- |
| Date | 10/20 (Tue) 19:30 |
| Place | Taipei City St. Johan University |
| Price | Free |
Bob Stollof from US Berklee, Body percussion, Human Beatbox ...
Classroom: TCMC
Course
Group Coaching
The Magic Mic and Body Percussion

Styles of Bass and Percussion, and Simple improvisation

Date/Time
10/20-10/21
15:00-17:00
10/20(Tue.)
19:00-22:00
10/21(Wed.)
19:00-22:00
Fee
NT$2,000/Hr
NT$300
NT$1,000
Special Offer: Student join all classes pay half price.

First:Oops


Second:MSG


Third:Sirens, Popphone Singers


Best Vocal Percussion:Wang Wei Nian(MSG)


Best Singer:Chen Hung Ju(Sirens)


Best Arrangement:Chen Hung Ju(Dan Yuan Ren Chang Jiu)


Best Stage Performance:Popphone Singers


Best Chinese Song:Oops


Best Jazz Song:Oops

First:Tonalrausch


Second(1):SoundStage


Second(2):Suade


Third:Maytree


Best Vocal Percussionist:Peter Huang (MICappella/Singapore)/SangIn,Jang (Maytree/Korea)


Best Soloist:Alexandra Grueber (Tonalrausch)


Best Arrangement:Afro-Blue by Matthias knoche (Tonalrausch)


Best Stage Performance:Tonalrausch
Contemporary A Cappella Catagory
New Spiritual Catagory
Alpha Voice
Hi! We are AlphaVoice!
Composed by a group of students who love singing with others, AlphaVoice wants to bring great music and happiness to everyone. Before our voice came together, all of us have had the experiences of performing publicly.
And that's what we love, no matter alone or with partners.
Quiet as whisper or loud as thunder. In the end of every song, how can the sparkle of harmony be showed? We sing, we smile, and dance with all possibilities,
We are so young but brave while face to any challenging, that's what we are,
WE ARE AlphaVoice!
Tangram Vocal Band
Tangram Vocal Band
Date : 2009/06/29
Organization : Taipei Public Relations Philanthropy Organization, Taipei Community Art and Cultural Committee(Applications).
We come from different fields, united to spread love and to attend the National A Cappella Competition!
We are currently contacting local public-community-service regarding related performances , and hope in the future, continue to pass down our A Cappella Improvisation Training to people who enjoys A Cappella.
Hopefully, through our voice, we can compose warmth like a beautiful Tangram, and pass down happiness forever.
MSG
"Mie Sai Gong/MSG" ("Can't be told" in Taiwanese dialect) is a group of low profile singers, a group which boys are delicate like girls (Man iS Girl), but still carry the task of moving the keyboard around.
Now sit back and enjoy the "MeSsaGe" in our music, we hope to give you a relaxed experience that you'd only find
in a "MaSsage".
One Plus One
There are lots of people who love A Cappella, but also, some of them have no group to join. February, 2009, Tiny Chiang(chief currently) gathered 7 people who love to sing together through the BBS(Bulletin Board System) called PTT.
    Our members didn't know each other before, but we all have one same spot—we all love to sing so much!!!
    A Cappella is not only a team work, but also , it can't be sung just by one person. A beautiful melody is built on lots of notes. That's why we named our group " One Plus One". Because one plus one equals us!
Sirens
Our team was formed in April, 2008. Originally, we are a four-member group formed to take part in "Rainbow Haven Youth Ability and Talent Competition" which held by New Life communion. With lots of efforts and continuous progress, we finally got the champion depending on our diversified elements of music and originality after 4 months. In summer vacation of the same year, we had the honor to win the champion once again in "Mamma Mia Creative Choral Singing Competition" held by Universal Studio & Taipei Philharmonic Foundation for Culture and Education. This time, we changed some of the team members; attempting to taking the challenge to International competition with our whole new lineup.
The High Voltage
The High Voltage was formed in July of 2009 by a group of alumni from Nanhu High School Choir. They have reunited with their passion for singing, and aim to spread their passion and enjoyment to their audience.

Vocal Café
Vocal Café is composed of six persons interested in singing. We don't have amazing ability, but we adore singing. It's a simple pleasure to sing with other partners. Learning singing with a positive attitude will surely make us grow day by day.
Tiramisu
Our group, Tiramisu, was established on September 2008. We all come from the chorus of National Cheng Kung University in Tainan. The members of our group
are four girls at present, because we love singing, when the holidays come we get together to practice singing. This is the first time we join in this competition. Although we just began, we caught the chance to compete with other groups in Taiwan, and we can enjoy the excellent performance of the foreign good groups, there must be a lot of harvest in this game. We hope the atmosphere of A Cappella could develop from Taipei to other cities, and also let more and more people to appreciate the beauty of ensemble!
The Mix Vocals
"The Mix Vocals" was born in 2007, founded by a group of people loving a cappella. Why "Mix"? The reason is, our members come from different fields, each one has individual timbre and personality, and are "mixed" with each other due to the same interest.
The songs we show are mainly Jazz and Pop. Jumping out from the stereotype of traditional chorus, we also try to arrange tunes with various styles. "Mix" does hope to bring our audiences diverse enjoyments of music with infinite possibilities of a cappella.
Offisinger
After graduated from the university, a group of people still can't forget the joy of singing together. Working is a need, but singing is a must. We're Offisinger!

We must sing to stop the mouth itch.
We must sing for those happy memories.
We must sing to relax.
We must sing for joy.

And, we must sing for all of you!
The Public Bath House (TPBH) - 2009 Domestic demo group
Wanting to spread a cappella music to more young people in Taiwan, The Public Bath House formed in summer 2007 as a mixed voices group. In July 2008 they became an all boys group under the advice of their music director and won the champion in the Taiwan International Contemporary A Cappella Festival Domestic Competition, along with best Chinese performance, best lead vocal, and best Jazz performance.
In 2009 The Public Bath House entered the Vokal Total competition taking place in Graz, Austria and won Gold Diploma and the Ward Swingle Award for the pop category.
Jigsaw
The vocal group Jigsaw was created in 2008. Three women and two men work hard in a cappella music in Taiwan, and they try to arrange some classic Chinese pop songs themselves, want to share good music to the audience. All of them are crazy about singing. To sing or not to sing, that is a question.
Oops
We are a group of music lovers. When we became freshmen, we were first introduced to the world of a cappella singing and became deeply fascinated with it. Our teacher's positive feedback encouraged us to start a choir in March this year. But even though it's not quite as good as we wish yet, we still harbor great expectations for the future. We hope to find our own way in the world of a capella through our shared passionand tacit understanding.
Popphone Singers
The Popphone Singers was founded in 2003 by Mr. Ray Chu. The group's Chinese name means "zebra", which has two connotations. Firstly, the black-and-white colour of the zebra represent the keys of a piano. Furthermore, a conductor once likened them to "ponies galloping on a musical field".
All Popphones Singers are members of Shih Hsin University Chorus (SHUC), and their energy, creativity and passion for music never changes despite the membership changing every semester. The Popphone Singers were the Champion of Taiwan Collegiate A Cappella Competition in 2004, and they placed third or second in the prestigious Taiwan International Choral Ensemble Festival (TICEF) from 2004 to 2008.
2007 was an important year for Popphone Singers as they won the Champion of Collegiate A Cappella Competition in Korea and performed in the Space International A Cappella Festival presented by EBS, the national television station of South Korea. ALso invited by HongKong Youth Association and perform 3 shows in the festival.
The Popphone Singers' repertoire consists of Jazz and pop songs in Chinese or English.

Video: 2008 Domestic competition second prize, Mini Skirt (best arrangment by Christine Liu) (2008 best arrangement)
SoundStage
Since they first began in 2006, SoundStage has devoted their time to cultivating excitement and appreciation for the vocal arts throughout the greater Los Angeles area. Soundstage takes pride in establishing long-lasting relationships with schools and communities by delighting their audiences with swinging jazz standards, silky smooth ballads, funk, pop, Latin, and country tunes. This award-winning sextet is extremely excited to share their love of good music with you. Enjoy!!!
Rock 4 (2009 Guest Group)
Rock4 is a Dutch a cappella group that adapts well-known and less well-known pop and rock songs in a masterly way and combines them into a varied and fascinating show, without musical instruments ever being missed. With a good deal of humour they present an array of carefully arranged, colorful songs in which the four male voices beautifully complement each other: Nico Jacobs's deep bass, Luc Nelissen's sheer endless variation of grooves, Peter Weltens's sensitive second part, and - last but not least - Luc Devens's impressive solos. Rock4's unmistakable style, which has won them international recognition over the last few years, is bound to surprise and move the audience. They introduce rock and pop music into the theatre in their own personal way. Every note, every sound enhances the music, making "Bring on the Night" a really intense experience, for the singers as well as the audience. website:http://www.rock4.nl/
Cosmos
The Vocal Group COSMOS is a union of six young and talented Latvian singers who have combined their voices to form a unique all male a cappella group – no instruments, just voices that will sound like any instrument you can imagine. Their friendship stretches back to their school days when they all studied music and toured the World with the Riga Dom Boys' Choir. Recognized as the best young Latvian group during the first year of its existence in 2003, Vocal Group Cosmos' first album received an award as the best pop album of the year and achieved platinum status in sales. Since then, Cosmos have released three new albums and have earned increasing fame and popularity in numerous countries. Their distinctive style of a cappella (without instruments) singing and charismatic concert performances has propelled these six young musicians into the forefront of the popular and academic music scenes. Drawing on a professional musical education and with a very broad range of voices, Cosmos articulate their talents across a broad range of musical styles and genres from medieval chanting to modern jazz and pop music. website:http://www.vocalgroupcosmos.com/
Tonalrausch
"I love your group! You made me forget that I am a judge...and you have such likeable personalities." – from Michele Weir "Great dynamics. Great groove. You always surprised me!" – from Anders Edenroth (the Real Group) "You have an amazing potential." –from Anders Jalkéus (the Real Group) "I Love You!"— from Andrea Figallo (Flying Pickets) "Great Sound Guys! Have fun and sing up a storm!"— from (Sydney Harmony)
They are the champion of 2008 International a cappella competition in Graz and champion of 2009 Taiwan International Contemporary A Cappella Competition in Taipei.
Stouxingers
The sound of the Stouxingers–with its whisper, its click of the tongue, its noisy breath, its twitter, its didgeridoo-like voice–has memo and recognition value. "The experience of a cappella groove"–that is probably the most appropriate and coining description of what the unsuspecting listener may expect. Feedback: "You're better than any group I've ever heard!" Gabriel Crouch, Ex-King's Singer "Your style is unique." Ward Swingle, Founder of the Swingle Singers
Promo video : http://www.youtube.com/watch?v=DRTFuzOYMeQ
GROOVY
Amateur R&B, Jazz and Pop quintet that arranges all of their songs themselves. 3 attractive women with beautiful voices and 2 funny men who became friends and wanted to do music together. A cappella is their passion; soprano, alto, tenor, bass and a little bit of vocal percussion.
Robstar Lobster
United in 2007. We do not only regular live performance at Kobe, but also tour across the nation vigorously. In event at commercial mall and business party, we do live performance with song choice for various listeners. And perform in a lot of school event every year. "The chain of happiness will be connected and circulated…" We think so at all times and treasure relationship with people we met before, we are singing with the aim of making you happy. Please listen to our various vocal works.
MayTree
MayTree was organized in the year of 2000. May Tree is the one top mixed a cappella group in Korea, known for their outstanding arrangement and high quality blending harmony. MayTree has sung at the opening of the 'the Real Group' concert twice at Sejong Center and had a successful joint concert with them once in Seoul. Maytree was the first, and yet the only a cappella group that has passed a particular examination of Seoul Arts center, the place that only provides space for the representative artists of each genre, and Maytree has held a concert at that place 5 times successfully. They stand unchallenged in the Korean A cappella. They tread the stages as a young and fresh a cappella group, also they spare their schedule for music programs on broadcast and recordings for CM Songs. MayTree is a delicate, powerful, energetic group. They're always thinking about many ways of expressing music with the human voice. And they have come up to this place with just their own effort. Maytree is a passionate and hard working a cappella group.
MICappella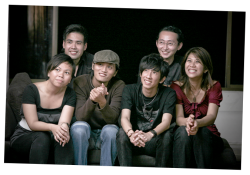 MICappella, a vocal band, Singapore's next step in Contemporary A Cappella.
Mosaic
Mosaic is an a cappella singing group formed in The University of Hong Kong (HKU) operating on a voluntary basis. The name 'Mosaic' was chosen to capture the very nature of the group; it resembles a picture made up of colored pieces of diversity. Mosaic gathers people who take pleasure in singing, people of different faculties and levels, all carrying with them their uniqueness, their passion for singing, their fantasies of making alive colorful, spirited pieces of music.
Potenza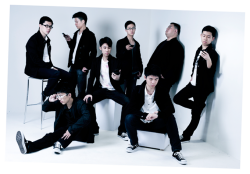 Potenza, an all-male a cappella group, was formed in 2006 by members of the HKFYG Hong Kong Melody Makers, a youth choir established by the Hong Kong Federation of Youth Groups.
Potenza had the honour of opening for the 2008 Hong Kong International Youth & Children's Choir Festival, and has been invited to perform in major events in the city including the Hong Kong Music Fair, LCSD New Year's Eve Countdown Carnival as well as Christmas performances in the Hong Kong International Airport.
Potenza has had the opportunity to participate in masterclasses held by the world-renowned a cappella groups, The King's Singers, Chanticleer, The Idea of North and Rockapella. The group has also been active in various charity and fundraising events throughout its history.
Potenza performs often as a five to six-member ensemble, and their energetic and dynamic renditions are well received by critics and audiences alike. They were featured and interviewed in a special program by the Hong Kong Television Broadcast Ltd (TVB) in April 2009. The group aims to be at the forefront of the local a cappella scene.
Suade
Suade is Australia's premier male vocal group, delivering amazing harmonies like no one else! Their concerts are infamously engaging - involving everything from outrageous comedy to the most memorable tear jerkers - all performed with just their voices. They're the Melbourne boys with a twinkle in their voices and a sparkle in their eyes.
Five guys, five voices, and that's it. Based in Melbourne, Suade have been entertaining listeners with smooth, soulful vocal harmonies since 1998.
A cappella singing isn't a big scene in Melbourne - but one of our goals is to get more groups together and in touch with one another so we can put on some joint showcases and get a movement happening - so get in touch if you've got any ideas!
Bob Bio
Bob Stoloff holds the titles of Associate professor and Assistant Chair of the Voice Department at Berklee College of Music in Boston, Massachusetts. While teaching a variety of courses, Bob's specialties include traditional Scat singing, spontaneous group improvisation and rhythm section grooves.
Bob began his professional career in music as a trumpet player in New York City where he attended the High School of Performing Arts. Bob's enthusiasm for both traditional and Jazz music prompted him to study several other instruments including drums, flute and acoustic bass.
In 1973 Bob moved to Boston to study at the Berklee College of Music. A percussion and flute major, Bob accelerated his studies and earned a bachelor of Music in Education degree in three years. During that time he established himself as a studio musician and performed on many recordings produced by local and national artists.
Bob's decision to become a professional vocalist was inspired by the masters of scat singing, particularly the voices of Ella Fitzgerald, John Hendricks and Bobby McFerrin. In 1983, Bob joined the European a cappella group, "Vocal Summit," which included well-known artists McFerrin, Urszula Dudziak and Jay Clayton. After several tours which brought the ensemble to major Jazz festivals throughout Europe, Bob returned to the United States to join a promising vocal group from the Boston area called "The Ritz."
Bob continues to adjudicate and direct choirs and big bands at high school Jazz festivals in the New England area. In addition Bob offers vocal improvisation workshops throughout the USA, Canada and Europe. His two books, "Scat! Vocal Improvisation Techniques," and "Blues Scatitudes" are available through Gerard/Sarzin Publishing in New York. His third publication, "Body Beats," will be released by Advance Music sometime in the spring of 2009.
Course Time Table
| | 20th Oct. (Tue) | 21th Oct. (Wed) |
| --- | --- | --- |
| 13:00-14:30 | Group Coaching | Group Coaching |
| 15:00-17:00 | Group Coaching | Group Coaching |
| 19:00-22:00 | The Magic Mic and Body Percussion | Styles of Bass and Percussion, and Simple improvisation |
Seminar Content
Guidance for A Cappella Groups
This class is focused on interaction between members of a group. Training will be given on how singers can perform their individual parts better, allowing the group to achieve better harmony, while each displaying their individual talents. The master teacher will pinpoint a group's strengths and weaknesses through their performing actual numbers and give advice accordingly.
The Magic Mic and Body Percussion
The different types and features of microphones will be explained, as well as items to be aware of and special uses. Microphones can be used for more that broadcasting or amplifying sound, which means that musicians would do well to understand the extent of its magical powers.
Ø
Introduction of types of microphones and their special uses
Ø
Special uses beyond broadcasting and amplifying
Body percussion, as it name implies, is using one's body as a drum to make percussion sounds. If we pat our bodies with our hands we can make many different sounds, from the simplest hand clapping to the variegated sounds made by different parts of the body. This patting can give birth to a rhythmic sound and dance movements. Using one's body as a percussion instrument can be both pleasing to the eyes and ears.
Ø
Easy rhythm and body posture
Ø
Patting movements and body rhythm
Styles of Bass and Percussion, and Simple Improvisations
A cappella groups differ from most from tradition choral groups in the fact that since they perform many pop and jazz pieces, they need to replicate drums and electric bass sounds. In modern music, these two sounds basically determine the style of the music. The combination of the two is the most important part of a cappella music. How to combine them is a must-know for all singers.
Ø
Types and sounds of bass instruments
Ø
Vocal percussion sounds
Ø
Introduction of different styles of modern music: rock, blues, jazz, soul, funk, reggae, ska, gospel, bossa nova, samba, alternative, etc.
Ø
Use of various styles of bass vocals and vocal percussion
Ø
Introduction of how one person can make both vocal bass and percussion sounds
Improvisation is an integral part of modern music. From simple improvisational changes in themes to complex chord-based improvisations, important methods and practice tips will be given. Jazz music is based on improvisation. Such skills are very difficult, so the class will only focus on helping participants appreciate improvisation and understand its basic methods. This will aid in appreciating this most enchanting part of jazz music and will help participants understand what they are hearing.
Ø
Understanding of jazz improvisation
Ø
Simple improvisation methods and practice
Ø
Appreciating jazz improvisations